100% Online Degrees For Professional Advancement
Career-Focused. Student-Centered. Success-Oriented.
Request More Information
Fill out the form to start your King journey today.
Note: All fields required.
13:1 Student-faculty ratio
#38 Best Value School
U.S. News & World Report, 2022
98% Of students receive financial aid
#38 Best Colleges for Veterans
U.S. News & World Report, 2022
100% Online Degrees from King University
King University offers the online degrees you need to move forward in your career. Our state-of-the-art online associate, bachelor's and master's degree programs give you flexibility and convenient access from anywhere. Many courses follow an accelerated five-week format, so you can complete coursework in as little as 16 months while maintaining your commitments to work and life. We offer one of the lowest tuition rates in the region, with financial aid available to all who qualify.
For the 29th consecutive year, U.S. News & World Report has recognized King among the best colleges in the nation, naming it the #38 Best Value School.1 The Princeton Review has named King one of the Best Colleges in the Southeast2 for a 15th consecutive year based on academics, admissions, and financial aid. Military Friendly® has recognized King University as a Gold status school for the 2023-2024 school year.
Our unwavering commitment to our students means that you'll receive the education you need for meaningful professional and personal growth through a relevant and industry-specific course of study. Discover today why King University has the difference you need to advance your career.
King University and many of its individual programs maintain academic standards by continually meeting the rigorous requirements necessary for accreditation.
King University is accredited by the Southern Association of Colleges and Schools Commission on Colleges to award associate, baccalaureate, master's, and doctoral degrees.
King University is certified to operate in Virginia by the State Council of Higher Education for Virginia.
The School of Nursing programs are fully approved by the Tennessee Board of Nursing and are members of the American Association of Colleges of Nursing. The baccalaureate degree program in nursing, master's degree program in nursing and Doctor of Nursing Practice program at King University are accredited by the Commission on Collegiate Nursing Education
The Bachelor of Social Work program is accredited by the Council on Social Work Education (CSWE).
King University is SCHEV certified to operate in Virginia. Primary location SWCC Cedar Bluff.
Our Online Degree Programs
From an associate degree to a master's, King University offers a range of degree options designed to help you elevate your career. Taught by faculty with deep subject matter knowledge and, often, experience in the field, our programs are based on the latest trends, data and needs in the professional workforce.
A comprehensive curriculum ensures that those just starting their college experience are well prepared to do so. Most students begin the online Associate of Arts program with our Introduction to College Semester. During this time, you'll build skills crucial to further academic success. Following this, you'll take classes through a rotation of theme-based semesters, and gain a well-rounded understanding of a wide range of subject areas, including mathematics, history, foreign language, humanities, and more.
The online Bachelor of Arts in English offers the chance for you to study the subject you love and earn a widely applicable degree. This program emphasizes the understanding of language and literature and delves into a wide range of authors, styles, and literary subjects. Topics of study include:
World literature
Adolescent literature
Composition and rhetoric
Appalachian literature
Religion and literature
Grammar and style
Shakespeare
Our curriculum also allows you to explore the relationship between faith and the art of writing, a unique connection that will enable you to deepen your understanding of your vocational purpose.
Our accounting bachelor's program provides the knowledge and experience necessary to become an effective and capable accounting professional. The curriculum features a structured course schedule that builds knowledge from one class to the next. Through a cohort model, you will develop relationships and support systems with peers while guided by faculty with extensive accounting experience.
Make a difference and serve your community with the online Bachelor of Science in Criminal Justice and Criminology degree. Designed for working adults and taught by expert faculty, our online criminal justice and criminology program features a comprehensive curriculum designed to help you gain a deeper understanding of the United States criminal justice system. You will make connections between theory, research, and policy, and focus on change and growth within our current justice system.
The online Bachelor of Science in Healthcare Administration can give you a broad understanding of this booming industry, train you in the competencies you need to influence the future of the industry, and successfully prepare you to take the next step in your career. Key topics of study include:
Human resource management
Financial management of healthcare organizations
Informatics
Ethical and legal issues in the field
Population-based health
Marketing and sustainability in the industry
Organization and policy
The study of history gives students a platform to grasp the roots of civilization, understand people from different periods and places, and appreciate the role of individuals who have shaped their world. Our online history degree program will provide you with a diverse foundation in a fascinating subject. You'll study a range of key topics and periods, such as:
The Civil War
Europe during WWI and WWII
The Cold War
The Middle Ages
Africa and Colonialism
The Atlantic World
History of Science
How to evaluate historical writing
Public history, including historical sites and museums
How to do historical research
How Christian faith and the study of history intersect
Put yourself at the forefront of a thriving industry with the online Bachelor of Science in Information Technology. Our program offers a comprehensive curriculum designed for those just starting their degree as well as professionals who want to complete their bachelor's degree or gain in-demand skills in cybersecurity and cloud computing. Because our degree is offered fully online, you'll have ultimate flexibility when it comes to balancing your education with your life.
Earn a degree that prepares you for the helping professions and beyond with the online Bachelor of Science in Psychology program. Our online psychology program provides the behavioral knowledge you need to advance your career or pursue further study. Offered in a fully online format, you'll be able to earn your degree while maintaining your work and life commitments.
Increase your career opportunities and earning potential with our online BBA degree. Designed for working adults, our online BBA degree provides the business aptitude you need to enter positions of management, change careers, or continue with further study. Because our degree is offered in a fully online format, you can fit your education around your schedule and immediately apply your education to your job.
Work in service of others with the online Bachelor of Social Work. Featuring a comprehensive curriculum and nationally recognized faculty, our online BSW prepares you to advocate for individuals, families, and communities. Because our program is offered fully online, it is uniquely designed to fit your scheduling needs. Graduates from the BSW program may qualify for guaranteed admission into the King MSW-Advanced Standing program.
Discover a transformational degree designed specifically for working nurses. Our online RN to BSN program helps you build advanced competencies, improve patient outcomes, and advocate for consumers of healthcare. When you graduate, you'll be ready to enter positions of management and leadership within your field. Our accelerated program features 7-week courses designed specifically for the ADN- or Diploma-prepared Registered Nurse, both new graduates and experienced nurses. Students can easily transfer credits from their previous college experiences to meet most of the degree completion requirements.
Reach the next phase of your nursing career with the online Master of Science in Nursing. With two unique concentrations – Nursing Leadership and Administration and Pediatric Nurse Practitioner – you'll have the opportunity to improve the quality of your specialty practice, expand critical nursing skills, and build the experience you need to enter positions of leadership within your field. Taught fully online, our program enables you to continue working while earning a master's degree.
Our online MBA program prepares working adults to go further in the world of business and enter leadership positions in their field. Featuring three concentrations –Healthcare Management, Management and Project Management –the online MBA program allows you to tailor your education to match your unique professional interests and needs. A fully online program, the MBA offers you the ultimate flexibility when earning your degree.
Prepare to navigate the complex and ever-changing healthcare industry as a member of upper-level management. As a Master of Healthcare Administration online student, you will be taught the core competencies needed to be a successful leader in the vital and growing field of healthcare. During your time in the program, you will study strategic planning, information systems, data analysis, legal issues, managed care, and more, preparing you to become a well-rounded candidate for a number of high-demand management positions.
Enroll in an online MSW program that empowers you to do more with its Clinical Advocacy focus. You'll learn how to identify community resources and service gaps, and to develop realistic plans to obtain essential resources, revise existing programs, and create new ones. You graduate knowing how to bring lasting hope and help to the clients and communities you serve.
Designed for nurses who have a Master of Science in Nursing, our nurse educator certificate combines clinical expertise with teacher training to prepare you to successfully become an academic nursing instructor or clinical nurse educator. The nurse educator certificate enables you to increase your salary potential by maintaining dual roles as both an educator and a provider of direct patient care. Our comprehensive curriculum prepares you for both roles through advanced study in topics like:
Advanced Pathology
Physical assessment and health promotion
Pharmacology
Principles of teaching
Curriculum development
Offered in a part-time blended format, our DNP is an academically rigorous program that prepares you to integrate Christian faith, scholarship, and service into your career and daily life as a nursing leader. In addition to clinical hours, you'll complete online coursework with topics in:
Theoretical and philosophical foundations of nursing practice
Evidence-based practice
Nursing informatics
Translational research
Population health epidemiology and data analysis
Leadership in complex healthcare systems and organizations
Healthcare policy and advocacy
The Benefits of Online Learning
Learning in an online format provides the opportunity to adjust your academic path based on your personal preferences. You'll have the chance to spend as much time with instructional materials as you need. King University's online programs offer the same course of study and level of academic rigor as our on-campus counterparts. You'll have access to the same experienced faculty and faith-based learning environment, and connect with your peers in a caring community atmosphere.
Request Info
Who We Are
King University is a Presbyterian-affiliated, doctoral-level comprehensive university dedicated to the integration of rigorous academic programming and the exploration of faith. For more than 150 years, we have offered students the opportunity to excel as thoughtful, resourceful, and responsible citizens with a passion for serving the world.
Curricula Built for Relevance
King University seeks to educate students in an academically rigorous setting that integrates Christian faith, scholarship, service, and professional advancement. Through our degree programs, our graduates go on to lead meaningful lives of achievement.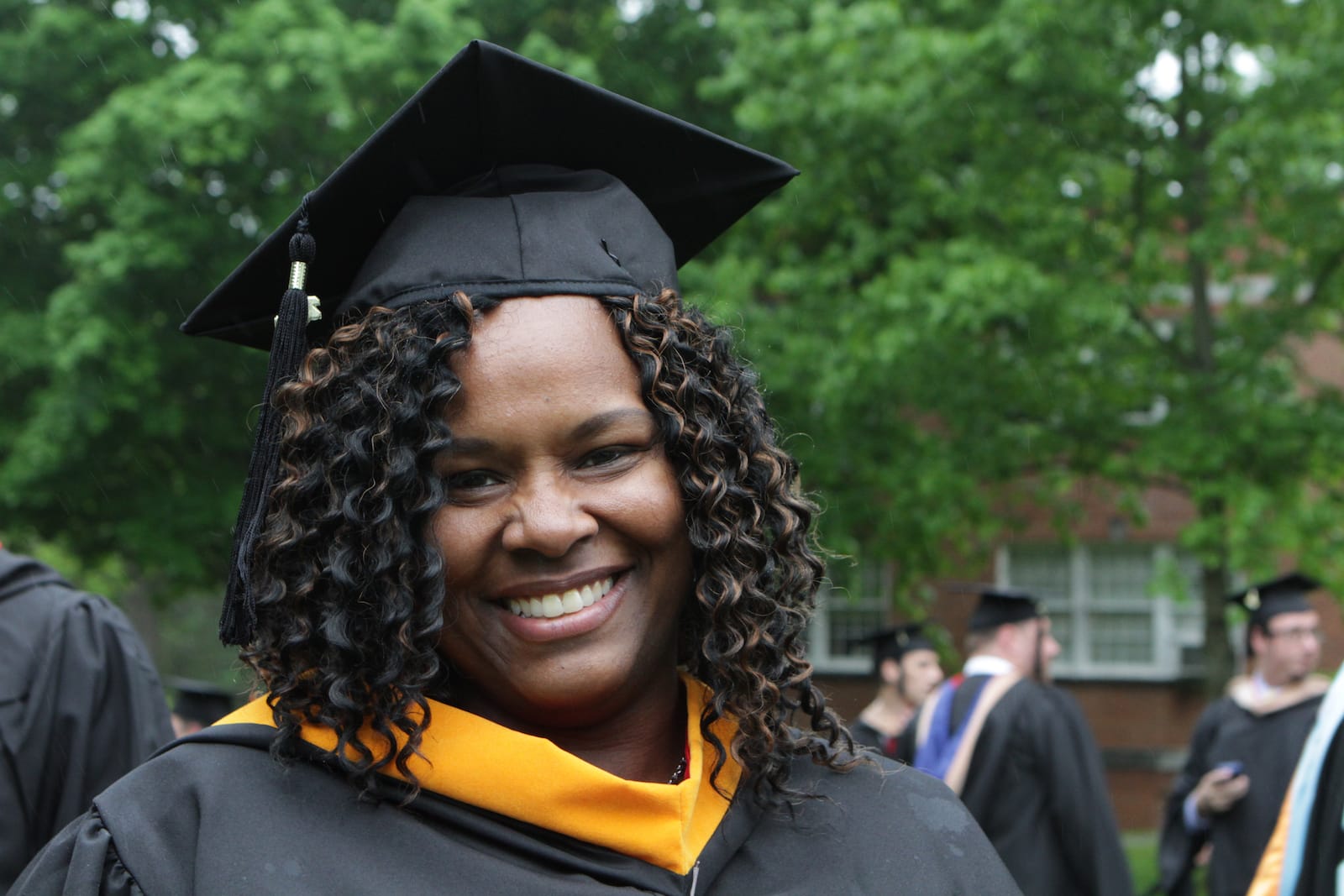 A Degree Can Mean Higher Pay
According to the U.S. Bureau of Labor Statistics, education pays. The higher the education level, the lower the unemployment rate. Since a degree positions you as more versatile and shows a level of commitment on your part, you are more marketable in the job market and posed to command higher pay than competitors without a degree.
2020 U.S. Mean Earnings and Unemployment Rates2
Doctorate: $1,885/week 2.5%
Master's: $1,545/week 4.1%
Bachelor's: $1,305/week 5.5%
Associate: $938/week 7.1%
Sources:
"King University Rankings," Best Colleges Guide, U.S. News and World Report. Retrieved March 14, 2022, from https:/www.usnews.com/.
"King University," The Princeton Review. Retrieved March 14, 2022, from https://princetonreview.com/.
"Education pays," U.S. Bureau of Labor Statistics. Retrieved January 19, 2022, from https:/www.bls.gov/.