100% Online B.S. in Information Technology
Career-Focused. Student-Centered. Success-Oriented.
Request More Information
Fill out the form to start your King journey today.
Note: All fields required.
Multiple start dates per year
Work on the Leading Edge of Technology
Put yourself at the forefront of a thriving industry with the online Bachelor of Science in Information Technology at King University. Our online IT degree program offers a state-of-the-art education that prepares you for the next step in your career. Featuring a comprehensive curriculum, the program offers you the opportunity to gain a broad understanding of the many exciting facets of the field. Because our degree is offered fully online, you'll have ultimate flexibility when it comes to balancing your education with your life.
The online degree in information technology at King is tailored for IT professionals who wish to advance within their organizations. It is also designed for individuals with some college credit who seek to finish their bachelor's degree. In fact, we accept up to 72 transfer credits, giving you the ability to complete major coursework in 16 months.
Our unwavering commitment to our students means that you'll receive the education you need for meaningful professional and personal growth through a relevant and industry-specific course of study. Discover today why King University has the difference you need to advance your career.
King University and many of its individual programs maintain academic standards by continually meeting the rigorous requirements necessary for accreditation.
King University is accredited by the Southern Association of Colleges and Schools Commission on Colleges to award associate, baccalaureate, master's, and doctoral degrees.
King University is certified to operate in Virginia by the State Council of Higher Education for Virginia.
Who We Are
King University is a Presbyterian-affiliated, doctoral-level comprehensive university dedicated to the integration of rigorous academic programming and the exploration of faith. For more than 150 years, we have offered students the opportunity to excel as thoughtful, resourceful, and responsible citizens with a passion for serving the world.
The Benefits of Online Learning
Learning in an online format provides the opportunity to adjust your academic path based on your personal preferences. You'll have the chance to spend as much time with instructional materials as you need. King University's online programs offer the same course of study and level of academic rigor as our on-campus counterparts. You'll have access to the same experienced faculty and faith-based learning environment, and connect with your peers in a caring community atmosphere.
Request Info
A Curriculum Built for Data Integrity
Our online IT degree requires 48 semester hours (13 courses) of major coursework. To graduate from King University, students must have completed a total of 124 semester hours, which includes a mixture of major courses, general education courses, and additional courses which may come from transfer credits or electives.
Our program prepares students to sit for industry-relevant exams provided by Google and IBM. With courses in Cloud Computing (aligned with the courses from Google Architect Professional Certificate), students can prepare for the Google Cloud certification exam, and with courses in cybersecurity (aligned with courses from the IBM IT Fundamentals for Cybersecurity Specialization Certificate), students will have four of the eight total courses required for the IBM Cybersecurity Analyst Professional Certificate.
Courses you may take in this program include:
This course provides an introduction to problem solving, algorithm development, and algorithm analysis implemented in a high level, block structured programming language (such as C++ or Java).
The topics that will be covered in this course includes basic digital media and data, storage, file management, fundamentals of webpage design, basic networking principles, rudimentary information security, basic database concepts, introductory programming, and logic and exposure to systems development. This course gives the students an opportunity to study for certification content for the IT Fundamentals Pro Certification and the CompTIA IT Fundamentals exam (FC0-U61).
This course covers cloud computing from an end-user perspective. Students will learn to utilize open source and readily available applications, collaboration tools, and storage options housed on the Internet. The focus of this course is cloud computing from a business or managerial point of view rather than a network or software engineering viewpoint. Students will be exposed to legal, ethical, and privacy issues associated with cloud computing.
The course introduces the threats to information resources and appropriate security measurement. Topics include cryptography, identification and authentication, access control models and mechanisms, steganography, Internet security, and intrusion detection and prevention. This course covers the content and materials needed to help students prepare for a Security Pro Certification and the CompTIA Security+ exam (SYO-601).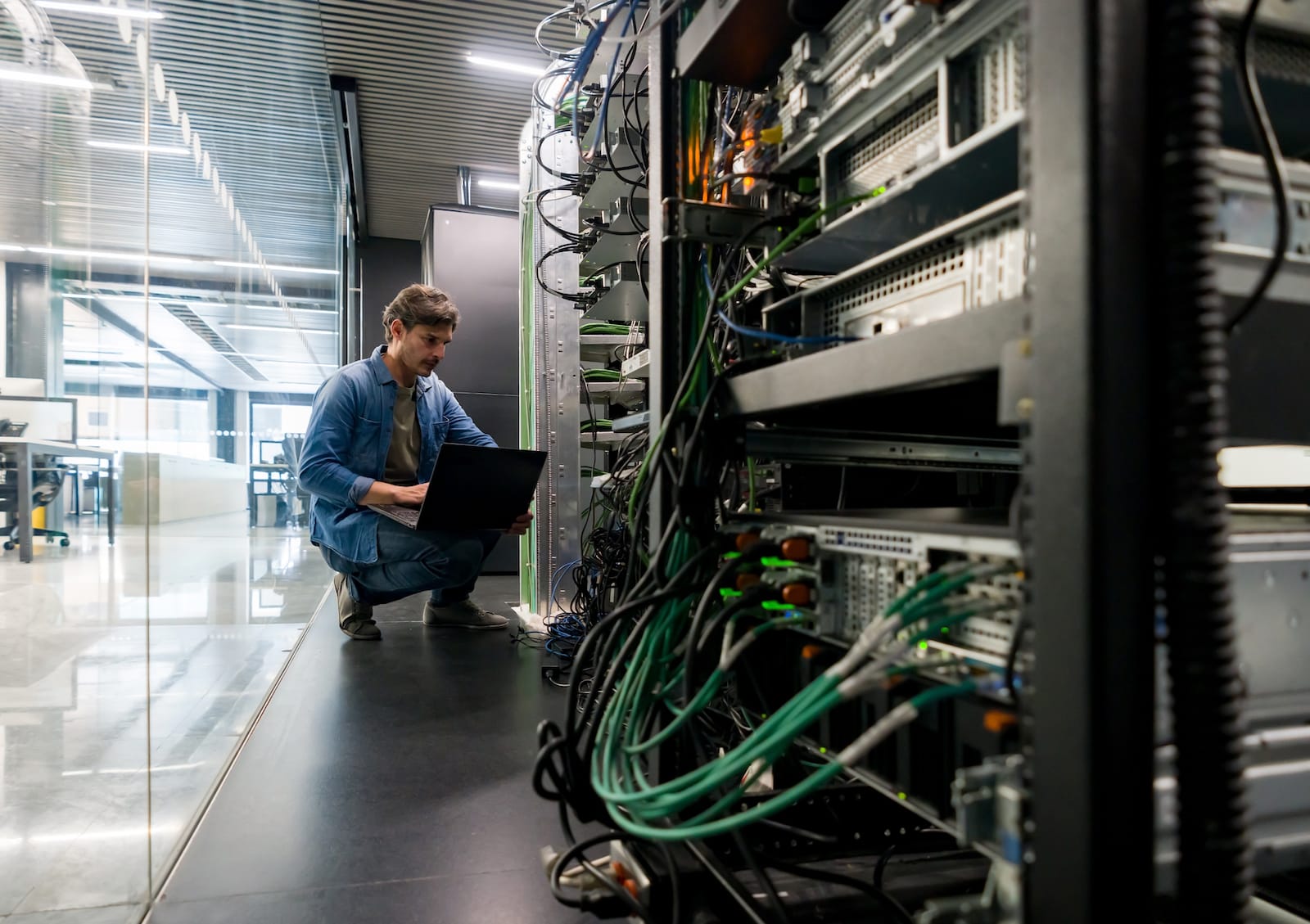 Build a Career in a High Opportunity Field
Information and technology occupations are expected to grow 15 percent by 2031.7 Rise to meet the challenges of our rapidly modernizing economy with the online Bachelor of Science in Information Technology at King University.
Upon graduation, you'll be well prepared to enter a variety of technology-related fields, such as security, programming, network architecture, or database administration.
Average Annual Salaries in 2022
Computer Systems Analyst $63,0331
IT consultant $79,3862
Security analyst $69,9773
Computer programmer $93,0007
Network Administrator $80,0764
Cloud infrastructure architect $90,3405
Digital business analyst $61,0106
Sources:
"Computer Systems Analyst Salary in the United States,: Salary.com. Retrieved March 20, 2022, from https://www.salary.com/.
"IT Consultant Salary," Salary.com. Retrieved March 20, 2022, from https://www.salary.com/.
"Average Security Analyst Salary," Payscale.com. Retrieved March 20, 2022, from https://www.payscale.com/."Computer Programmer Salary in the United States," Salary.com. Retrieved March 20, 2022, from https://www.salary.com/.
"Network Administrator Salary in the United States," Salary.com. Retrieved March 20, 2022, from https://www.salary.com/.
"Cloud Infrastructure Architect II Salary in the United States," Salary.com. Retrieved March 20, 2022, from https://www.salary.com/.
"Digital Analyst Salary in the United States," Retrieved March 20, 2022, from https://www.salary.com/.
https://www.bls.gov/